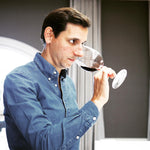 ... they have a story to tell. And in the last blog article we promised to tell you about our visits to the châteaus. So ... the following châteaus were on our list:
Angelus Castle
Château l'Evangile
Chateau Belair Monange
Château Lafite Rothschild
Each one is unique in itself. Each impressive in itself. Each is worth a visit in itself. And yet they all have something in common: the love of the product.
It is unbelievable with what dedication and passion the winemakers / employees of these châteaus speak about the grapes, the vineyard and ultimately the wine. They all agree that good wine is made in the vineyard. It is the precision in the vineyard that produces these special qualities. A Belair Monange employee described it as the "manicure" of the grape. Here, faulty berries are cut from the grape so that only perfect material is processed during the harvest.
And even if that's just a good story for visitors, it's the pursuit of perfection that makes all the difference. Not to be satisfied with mediocrity. Always striving to improve. Driving the quality. Never to rest. To keep your eyes open.
With all the effort that goes into the vineyard, the cellar work is very easy to organize. Simple processes. Clear processes. That in turn made us positive that we can vinify a high-quality product with the simple means that are available to us.
And that is exactly what we will implement in the 2021 year. The grapes are healthy and the beautiful late summer suggests excellent quality. The harvesting boxes are ready. We look forward to the harvest. Would you like to be there? Then contact us!