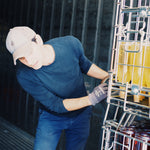 Last year in August we decided to do Pet Nat ourselves. With everything that goes with it. But apart from enthusiasm and passion, we didn't have much. No cellar. Not a tractor. The quick solution was a refrigerated container in which we have vinified and stored our first vintage so far. That was a great fit. We were really happy with it.
But it soon became clear to us that the refrigerated container with the new harvest would be too small. So the question was: either we expand and buy a second refrigerated container or we can find a cellar. We weighed the pros and cons. And it quickly became apparent that there can really only be one right decision: we want a cellar.
Why? A refrigerated container has many advantages. Above all, its flexibility has convinced us so far. But in the end you have to admit that a refrigerated container for Pet Nat production consumes around 7,500 kWh of electricity per year. And that's definitely not environmentally friendly. In a wine cellar, on the other hand, we can naturally achieve a constant temperature of 12 ° C. Without spending energy on it. Without additional costs.
We have visited quite a few cellars in Langenlois. For some, the term hole is more appropriate. Quite a few pearls were there too. In the end, we were won over by a small but nice cellar at the end of the Kellergasse in Kühsteingraben. After a few days of cleaning and tidying up, we were able to move in.
And so our second vintage is no longer vinified in a refrigerated container, but in a cellar.
What happened to the reefer container? It has traveled on. To the Weinviertel. To a winery. We are very pleased that it is valued by a colleague as much as it was by us.